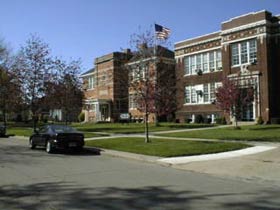 — The Grosse Pointe Public School System —
The Grosse Pointes are very fortunate to enjoy one of the finest school systems in the nation. Our "community schools concept" allows families to participate in their child's elementary, middle and high school experience. Our excellent teachers and staff offer topnotch learning opportunities for children of all abilities. We are proud to have consistently scored among the top school districts in Michigan. In standardized testing, Grosse Pointe ranks in the top one percent of school systems nationwide.
Mission Statement
The mission of the Grosse Pointe Public School System, in partnership with parents and community, is to ensure that all students acquire and use knowledge, skills and behaviors necessary to meet the challenges of today and tomorrow.
  The Schools
Nine elementary schools are strategically located throughout the five Grosse Pointes and a portion of Harper Woods. The "community" school concept is such that Grosse Pointe has no need for school busses. Elementary school-aged children are in walking distance to their schools. These schools provide instruction from Kindergarten through Grade 5. 
Two Elementary schools are in the Park: Defer and Trombly. One Elementary school is in the City: Maire . Two Elementary schools are in the Farms: Richard and Kerby . Three Elementary schools are located in the Woods: Ferry , Mason and Monteith. One Elementary school is located in Harper Woods: Poupard . 
These nine elementary schools feed into three middle schools providing instruction in Grade 6, 7 and 8. Pierce Middle School is located in Grosse Pointe Park ; Brownell Middle School is in the Farms and Parcells Middle School in the Woods. Grosse Pointe South High and Grosse Pointe North High schools serve the entire Grosse Pointe community from Grade 9 through 12. Barnard Center, located within Grosse Pointe Woods on the Children's Home of Detroit grounds, serves the elementary school age residents.
  The Parent/Teacher Organizations
Parent/Teacher Organizations are a strong tie between school and home. Every elementary and middle school has its own PTO, which consists of parents/teachers. The PTO Executive Board members are elected and oversee a variety of committees providing financial and volunteer support to curriculum-based and extracurricular activities for students and their families. The High Schools have Booster Clubs, Mothers Club, and Parents Club to provide support. Many opportunities are available for volunteers within our schools; Clinic Aids, Publishing Center, Fundraising, etc. The PTO Council consists of each school's PTO President and delegate. An elected four-member Executive Board facilitates communication among parent organizations, provides special speakers and other system-wide projects.
  The Grosse Pointe Board of Education
The Grosse Pointe Board of Education is a seven-member body elected by the community for four-year terms. The Board meets on the first and second Mondays of each month. Occasionally special meetings are held as needed. 
Grosse Pointe Libraries
Libraries are found in each of the schools in the Grosse Pointe District. Each school library has, or will have shortly, state-of-the-art technology for students' use.