While Grosse Pointers don't always have everything in common...there are a few things you can count on all Grosse Pointers having...
Pride of Ownership
Manicured lawns, welcoming walkways leading up to stately homes ~ Grosse Pointe has this effect on homeowners. Not a "keeping up with the Jones' " attitude…more like "I care" attitude.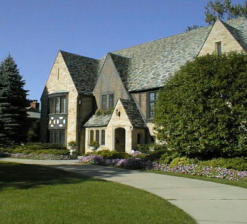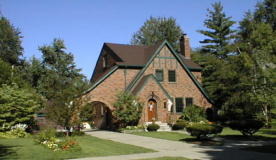 Historic Roots
Historic homes play an important role in our community. The Grosse Pointe Historical Society owns and maintains a turn-of-the-Century home in the Farms. The historic home shown above is in the Park on Jefferson. Historic homes and buildings are plentiful in the
Grosse Pointes.
Future Planning
Many of the homes were built in the 1920's through 1940's. There has been a building "boom" in the Pointes for the last 10-15 years. New construction represents tasteful architecture that dovetails with neighboring homes.
Community
The Junior League Showhouse 1998 is seen here in its renovation stage. Located in the Park on beautiful Windmill Pointe Drive on Lake St. Clair, this gem is being restored and decorated by local interior designers, landscape artists and other architectural artisans. Proceeds of the Junior League Showhouse will go toward the League's community-based projects.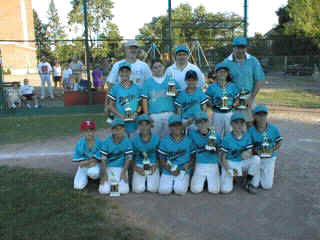 We're not ALL about houses here in the Pointes! Families doing what families do best…spending time at the ball diamonds…helping out coaching a child's team to victory (or 2nd place!) – Grosse Pointe has the best to offer families! The Grosse Pointe Public School System, the Grosse Pointe War Memorial, the Greek Assumption Cultural Center and the Neighborhood Club offer a multitude of
programs to fit ages 1 to 101!
In Conclusion…
Grosse Pointe is a wonderful, lively place to live and work. Need more information? I can provide you with a complete Relocation Package, which includes:
Maps
School Information (Public & Private)
Neighborhood Club Events
War Memorial Events
Community Events
City Information